An excellent choice for small business
Comprehensive
Business Website Plan
Get a high-quality Business Website Plan specifically tailored to the needs of small businesses. We provide everything a business needs to succeed online with an All-in-One website.
Get Started
Read more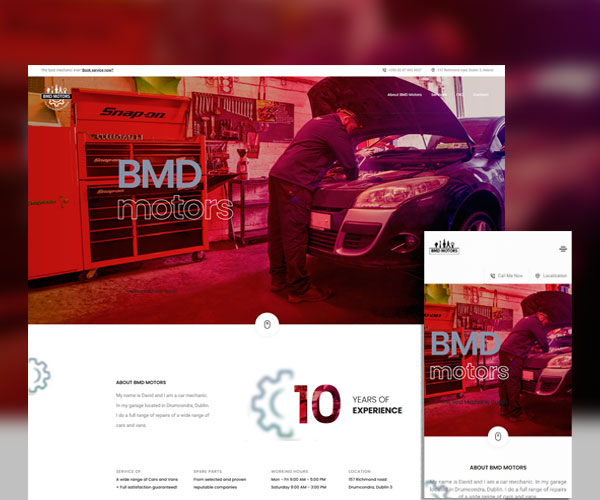 What includes?
All-in-One for a consistent design.
We dedicate the plan to a new or running small business.
Number of web pages
up to 7 web pages
Read more
We are designing the custom responsive layout of an HTML5 website from scratch. You will get a homepage plus six internal web pages in the classic style or one page with up to 7 sections or mixed.
Logo Design
standard
Read more
Standard logo design service to re-create your old or create a new modern minimalist business logotype. 2 Logo concepts included logo transparency - ✔️PNG, printable file - ✔️JPEG.
Photo Service
6h (2h+4h)
Read more
To obtain quality images, we included 6 hours of Commercial Photography Service with 2 hours of photo sessions about your business or products and 4 hours of post-production.
Domain Name
.eu or other*
Read more
We transfer or register a memorable domain name with a .eu extension for your new All-in-One business website.
*A full range of extensions is available on request at an additional cost
Hosting Service
standard
Read more
The small business website plan includes standard hosting service with Europe's leading hosting provider—the best way to stay on top of cybersecurity, virus scanning, and spam filtering.
SLL Certificate
first level
Read more
We enabled a first level of Secure Sockets Layer (SSL) certificate to ensure your new website is secure for all visitors. Encrypted connection using a certificate reduces the risk of intercepting personal or bank data.
E-mail Addresses
5 of 5GB
Read more
With this website plan, you will get five e-mail addresses with a capacity of 5GB, each linked to your domain name. Access to the inbox of e-mail addresses is by E-mail Client Application or Webmail.
Scripts & plugins
standard
Read more
We provide installation and launch of standard JavaScript pack to support dynamic website functions such as Animations, Carousel, Galleries, Lightbox, Accordion, Parallax and Tabs.
Website Maintenance
standard
Read more
At your request, we will carry out standard website maintenance of content changes and customization once per month. Also, we provide standard updates, bug fixes and backups in the background.
Support ticket
24th business hours
Read more
Itneus provides the right level of support access to technical support. Standard support provides a first response within 24 hours to your critical incidents after adding a ticket to the support system.
Social Media
basic links
Read more
Your new website will include social media links in the top header and footer to all your current social pages, video channels or social media accounts. We will advise how to link your social media with your new website link.
Auto-renewal
one / year
Read more
You don't have to worry about it, all services, such as domain name, hosting service, mail server and other scripts, will automatically renew on the anniversary of your contract with us.
Add-ons
Optional paid services with 15%OFF.
We provide a full range of graphic design services to gain quality framing of business documents or elements of your website.
We offer the Video Production Service to obtain high-quality audiovisual materials to frame and promote your business and products.
The monthly SEO service prices depend on your industry competition and how broad is your target market/location.
Building a Compelling, Informative Website
In the increasingly crowded online space, our outstanding video and animation services give your website the boost it needs.
L
Logo reveal
Present your brand logo dynamically and memorably with our logo reveal animations. These practical marketing tools are used in everything from websites to video presentations, giving your company that ultra-professional sheen.
P
Animated presentation
An animated presentation is a short-form video clip that lasts from a few seconds to a few minutes. Drawing a visitor's attention to your products or brand message in the fastest and most effective way creates instant customer engagement.
See why people love ITNEUS.
Comprehensive
Business Website Plan Web designs Domain name Hosting service SSL Certyficate E-mail addresses Logo design Commercial Photography Scripts and plugins Website maintenance Support ticket Social-media
The business website uses the latest HTML5 coding practices and technologies. You can expect it to be fast, secure, and well-optimised for search engines – all thanks to Itneus choosing the most highly-rated hosting providers. You don't have to worry about uptime.

Painting Service Website
Out of all the websites that I have ordered from this time, this is the 1st one that didn't require any complaints.
Thomas The Painter

B&B Website
Upgrade of our website has always been above and beyond, Itneus support has been very reliable.
Stankowie

Nail Studio Website
You will not find a best web designer such as ITNEUS. We understanded each other in simple and easy way during create my website.
Agate Nail Studio

Commercial Photography Website
Everything is great about my new website, from design quality to flexibility..
I Take Photographs
Consulting services
Itneus' service is not just about designing and building websites: It's about creating a strategic digital presence that helps clients achieve long-range business goals. We work closely with you to understand your objectives and adjust quickly to the latest data to ensure lasting success. In short, the Comprehensive Business Website Plan is a complete end-to-end solution that covers every aspect of website design, development, standard content creation, and ongoing website maintenance and support.
Design
At Itneus, we pride ourselves on our determined approach to website design. Our designers focus on many aspects than only on visual design – they understand the importance of user experience and work to create aesthetically pleasing websites that are easy to navigate and use. We draw upon the latest design trends and technologies to create modern, engaging, and fully responsive websites. They always look great and function seamlessly on any device.
Launch
Once the website design is complete, your new online presence comes to life. And our service continues beyond there. Because a website is not a set-and-forget platform, we provide ongoing maintenance and updates, so clients' websites stay relevant, up-to-date, secure, and at peak performance.
We keep current technical standards W3C.
Elements and Features
To design Business Website
Questions?
We have answers.
No helpful answer?
Here are some options